Get link

Facebook

Twitter

Pinterest

Email

Other Apps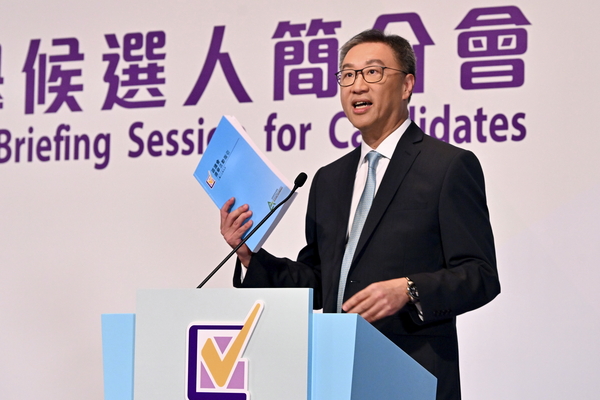 Electoral Affairs Commission (EAC) Chairman David Lok conducted a briefing tonight for the candidates of the 2023 District Council Ordinary Election on the electoral arrangements, guidelines on election-related activities and important points to note in running their electioneering activities.  
The election will be held on December 10.  Polls will be conducted for all of the 44 District Council geographical constituencies (DCGCs) and 18 District Committees constituencies (DCCs), with a total of 264 seats.  
There will be more than 600 DCGC ordinary polling stations, 18 DCC polling stations and a maximum of 48 dedicated polling stations for the election.  
Four near boundary polling stations at two secondary schools in the vicinity of the Sheung Shui MTR Station will be set up to enable electors who reside in the Mainland or need to travel to and from the Mainland on the polling day to cast their DCGC votes.  
DCGC electors will be allocated to ordinary polling stations in the vicinity of their registered addresses. The polling hours of ordinary polling stations will be from 8.30am to 10.30pm.  
DCC electors will be assigned to the polling stations of the DCCs to which they belong. The polling hours will be from 8.30am to 2.30pm.  
For the DCCs, after the close of polls, the polling staff will ensure that the locked and sealed ballot boxes will not be interfered with and the counting of votes will only commence until the close of polls for the DCGCs.  
This will take place in an effort to avoid any possible impact to the election results for the DCGCs due to the early announcement of election results for the DCCs.  
The Registration & Electoral Office will start to issue poll cards and election-related documents from November 15 onwards.  
Mr Lok stressed that the EAC will strive to ensure that the election will be conducted in an open, honest and fair manner, in the same way as in the past.
http://dlvr.it/SypL3F
Get link

Facebook

Twitter

Pinterest

Email

Other Apps